W
hile there are hundreds of fragrance houses out there, there's not one that has touched Michael James as much as Jo Malone. The 37-year-old UK who by day works as a medicine optimization pharmacy technician for a mental health trust says that Jo Malone London "has become a hobby over the years, and has led to me keeping a blog."
He recalls his baby steps into fragrance began as a tween, when "I won a Brut gift set at a village fete… having associated this with being a man, the 11 year old me was delighted!" He acknowledges the struggles of fragrance accessibility for those his age, so he applied body sprays and was particular to Lynx (the US Axe equivalent). His love of fragrance grew, and he was gifted with a Burberry bottle as a Christmas present, which he wore "to feel grown up or to impress girls (oh, the irony!)"
When he finally entered the working world as a pharmacist, as branch supervisor, he had the ability to experience the small perfume section. "I would regularly create displays inspired by magazine editorials, and fawned over any new launches. I'd try it all. Loving the packaging, bottles, and of course, the scent!" He truly enjoyed fragrance, saying it was fun "and maybe [a] little frivolous. I'd enjoy gifting and receiving fragrance."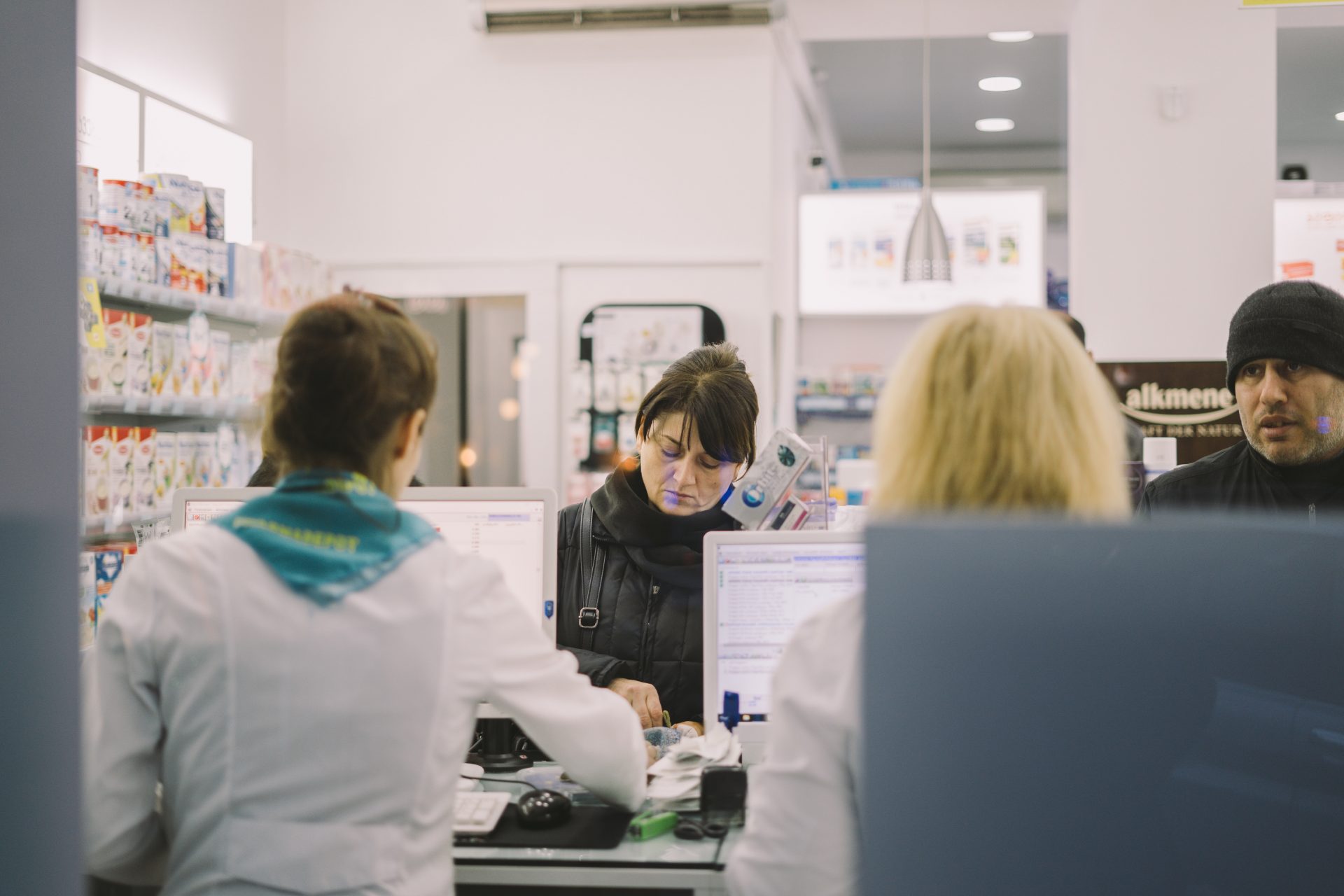 That all changed when he discovered Emporio Armani He. "I can still almost smell it from memory, though I can't quite put my finger on why it captivated me so much." He wore it all the time, and even preferred the matching body wash which was only available during the holidays, which caused for a "painful" wait. The fragrance defined him, as people told them "they caught a 'waft of Mike.' The two of us were synonymous."
Growing up and entering the professional world, this new phase required a new fragrance, "and while I never really found a fragrance that defined this new chapter, experimentation and new opportunities in my life was mirrored in fragrance." Living in a small city also limited him to mass-market fragrance from department stores and not the exclusives that are typically associated with higher end retailers in London, for example. "I got fed up with not having a signature scent … so I was determined to find 'me' in fragrance again."
He was open minded, but not all fragrances met his criteria. "As if by fate, Armani launched a new fragrance, and it felt serendipitous to come full circle. But shock horror, I didn't like it!"
Whoops!
"I'm sure I'm not alone in enjoying being told I smell nice, but there is also pleasure in catching a quick smell of myself and enjoying what I'm wearing.
At that point, Jo Malone was still a new kid on the block. He gave the fragrance a shot, even though he wasn't so keen on doing that due to a woman nearby who "managed to make the brand seem obscenely pretentious." Initially a curiosity to get a few ideas about fragrance notes, Michael ended up learning about Jo Malone's top sellers, new launches, and things they liked. "And before I knew it, I was hooked. I even ended up walking away with two," Lime Basil & Mandarin and Black Cedarwood & Juniper.
"And then the addiction began!"
It pivoted his desire to wear fragrance too. "It's no longer to find myself or to project who I think I am or even who I want to be," he said. It's a ritual, part of his routine. "I'm sure I'm not alone in enjoying being told I smell nice, but there is also pleasure in catching a quick smell of myself and enjoying what I'm wearing."
With Jo Malone, Michael has found his happy place. "It made me appreciate I'm not always one thing, and it's OK to enjoy chopping and changing fragrance, to adapt to a scenario in a way that fits my thinking. I chop and change regularly choosing a different fragrance to wear monthly, and further changing that up with combining it with another scent from my collection," giving him a lot of different scent profiles on a regular basis. And he knows he's defined by Jo Malone. "I guess I'm defined to some degree by one fragrance house, rather than one fragrance!"
Does he have a favorite Jo Malone scent? "It is literally like asking a parent to pick their favorite child for me!" But he'll settle on Wild Oak & Hazelnut and Wild Bluebell. Michael also can't assign any gender to these fragrances, but says the Wild Oak and Hazelnut "gives off a masculine energy to me, but subtly, evocative of forest, hunter gatherer." Wild Bluebell "probably leans more toward the feminine scale" in its "fresh, but somehow luminous effervescence." Together, the pairing "is a journey through a wet woodland, the sun poking through the leaves. You are aware of its presence but the trees are too thick to fully feel it. Flowers are beginning to grow here and can be detected on the breeze, a contrast to the moss and woods."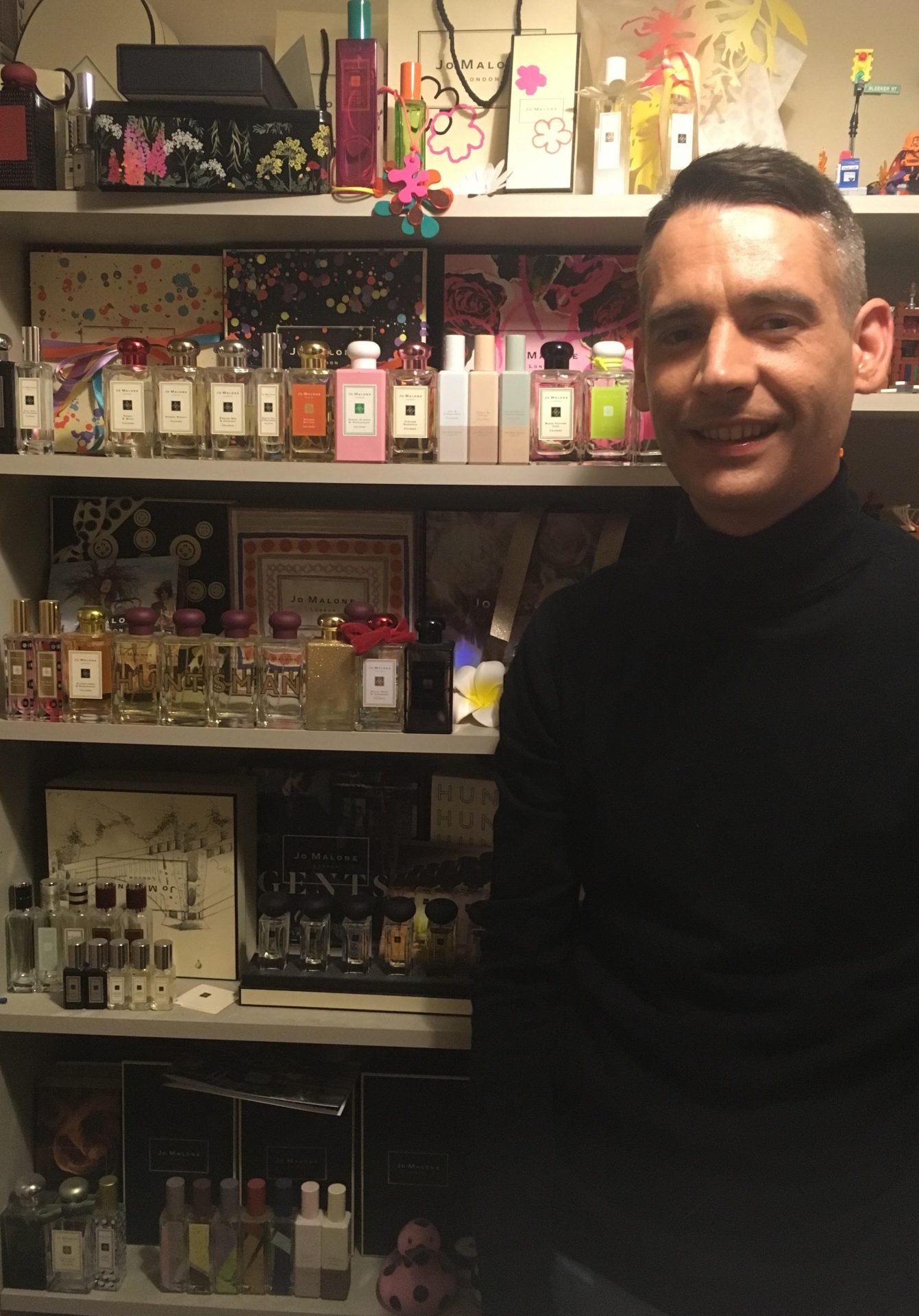 To Michael, fragrance is "transportation. A lot of fragrance will tell me a story as I apply them, transporting me to another place. This may be a real point in the past, or a complete fantasy, a familiar country, or a foreign land. It completes a 'grooming' routine and finishes off an outfit. It enhances my aura and mood." And as his mood changes, so do his favorite notes. Michael gravitates toward warmer, woodsy notes, and is particularly fond of patchouli. He also likes the freshness and the medicinal sharpness of eucalyptus, in addition to sharp citruses like lime, and the effervescence of verbena. Florals need to be "done well" to achieve a level of divinity, and he loves lily of the valley, lavender for its sensual twist, "which belies its old lady connotations!" While geranium is a floral, Michael sees it on a citrus scale and finds it delightful in perfume.
For whatever's next, well, it's surprisingly not Jo Malone–for now. He's up to date. But he does want to try Diptyque Eau de Minthe, which encompasses his favorite notes in one fragrance.